Christmas Blessing 2021
Every year we have our annual Christmas Blessing Offering. This year we are excited to continue that tradition with high expectations about what we will be able to accomplish together. Beginning Sunday, November 21st and running through Sunday, December 19th, you can give directly to the Christmas Blessing fund. All donations will go directly to our partnerships and projects.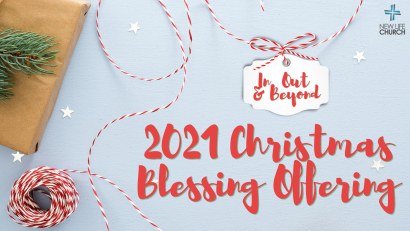 ---
At New Life Church one of our core values is the Great Commission. We value leading people into a life-giving relationship with Jesus Christ. We are people who engage our community, country, & world with the mission of Jesus. We will be mobile in our faith giving witness to salvation in Christ Jesus. We are a church that goes into the world to win the world for Jesus.
We partner with para church ministries in Jackson and around the world. We also intentionally give to disaster relief efforts whenever those events occur.
The third Sunday of every month is Outreach Sunday. We will highlight, pray for, and intentionally support outreach partners on this Sunday. We encourage all members to prepare to sow in to our outreach fund throughout the month, but especially on our third Sunday.You can also serve our outreach partners by donating needed items. Our outreach giving station is located in the lobby and items can be turned in there.
Current Outreach & Mission Partners:

Select our Outreach Fund when giving.