Spiritual Vow Renewal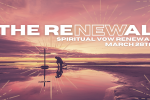 Here is the Prayer Pastor Jereme led us in on Sunday. Take time to read over it again and pray it through.
Psalms 51:1-19 (NKJV, MSG, NLT, TPT)
The God of my salvation have mercy upon me. According to Your lovingkindness, according to the multitude of Your tender mercies, blot out the stain of my sins. For I was born a sinner from the moment my mother conceived me. What you are after is truth from the inside out. Enter me, conceive a new, true life. Purify me from my sins, and I will be clean; wash me, and I will be whiter than snow. Oh, give me back my joy again. Create in me a clean heart, O God, and renew a steadfast spirit within me. Fill me with pure thoughts and holy desires, ready to please you. Do not cast me away from Your presence, and do not take Your Holy Spirit from me. Let my passion for life be restored, tasting joy in every breakthrough you bring to me. Hold me close to you with a willing spirit that obeys whatever you say. Then I will teach transgressors Your ways, and sinners shall be converted to You. Going through the motions does not please you, a flawless performance is nothing to you. You will not despise my tenderness as I bow down humbly at your feet. And when we are fully restored, you will rejoice and take delight in every offering of our lives as we bring our sacrifices of righteousness before you in love! Renew me today God, as I renew myself to You. In Jesus Name, Amen!!!