Winter 2022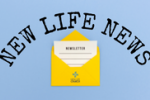 Hey New Life Church! We have had an amazing Fall and now we are gearing up for a great winter.
Our Christmas Blessing Offering starts November 20th and runs through Dec. 18th. You can donate through the church center app or in person at a giving station. Every year we intentionally bless members of our church family, organizations and individuals in our community, and missions partners around the globe. As you begin planning your Holiday spending, don't forget to include the Christmas Blessing Offering.

Our Christmas series this year is going to be one for the books! Join us every Sunday from Nov. 27th - December 18th for CHRISTMAS AT THE MOVIES! We will be celebrating the true meaning of Christmas with some help from a few Christmas movie favorites. Plus, there will be popcorn and more every week for the whole family. You won't want to miss it!

This year Christmas is on Sunday. We want each of you to enjoy the day celebrating with your family, so we are planning a special "Home Edition" of Christmas at the Movies. Be on the look out for a special online service Christmas weekend.
BAPTISM
If you or your child are interested in being baptized, we are going to offer baptisms on Sunday, Nov. 27th. Text: DECIDEDNLC to 970-00
NEW LIFE 2023
The New Year is fast approaching. We are already praying and planning for the next year at NLC. We can't wait to share with you what's coming soon!